NAB Show, Las Vegas, NV - April 16th, 2016 - intoPIX, an innovative technology provider of video compression solutions, announces that industry specialists Blackmagic Design and Panasonic will adopt their TICO compression IP cores.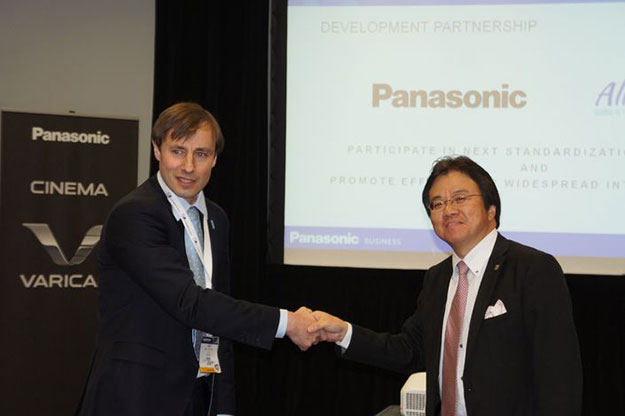 In the future, TICO 4:1 visual lossless compression algorithm will be used by Australian TV and cinema electronics manufacturer Blackmagic Design for their IP transmission equipment.

TICO compression IP cores offer visually lossless video compression at a 4:1 rate with only a few lines of latency. This makes it the perfect technology for applications that rely on live video transmission such as sports event broadcast.
This displays a major step in in the company's offerings to move along with the industry's transition to an IP based infrastructure.
Next to Blackmagic Design, also Panasonic will adopt intoPIX's TICO IP cores. As a new member of the AIMS Alliance, the adoption of TICO compression manifests Panasonic's position as a major player in the broadcast and Pro AV industry, with their ongoing advancement of Media IP Solutions.
Having a shared booth this year, Panasonic showcases the interoperability of its system with that of Canon using an IP infrastructure. This demo proves seamless transmission of data across both manufacturer's stands thereby emphasizing the advantages of AV over IP.
About Blackmagic Design
Blackmagic Design creates the world's most advanced video editing products, video converters, routers, color correctors, film restoration software and waveform monitors for the feature film, post production and broadcast industries. Blackmagic Design's DeckLink, Mini Converters, Videohub routers and UltraScope waveform monitoring products revolutionize the television industry by making advanced post production tools affordable to thousands of creative professionals. Blackmagic Design's DaVinci Emmy™ award winning color correction products continue to dominate and lead the industry with ground breaking innovations including stereoscopic 3D and 4K workflows. Blackmagic Design has offices in the USA, UK, Japan, Singapore and Australia.

For more info please visit www.blackmagic-design.com
About Panasonic
Panasonic Corporation, together with its subsidiaries, develops, produces, sells, and services electrical and electronic products under the Panasonic brand name worldwide. It operates through Appliances, Eco Solutions, Connected Solutions, Automotive & Industrial Systems, and Other segments.

For specific information on their broadcast solutions and equipment please visit http://pro-av.panasonic.net/en/index.html
About intoPIX
intoPIX is an innovative technology provider of compression, image processing, and security solutions to audiovisual equipment manufacturers. We are passionate about offering people a higher quality image experience and have developed FPGA IP-cores and software tools that enable leading edge TICO and JPEG2000 compression, security, and video over IP and hardware enforcement.
More information on our company, customers, and products can be found on www.intopix.com.
Follow intoPIX on Twitter @intopix