New "FastTICO-XS" SDK allows software-driven live production solutions running in HD, 4K and even 8K.
NAB Show, Las Vegas – April 7th 2019
, intoPIX, leading provider of innovative image processing and video compression technologies, announced today the demonstration of their
FastTICO-XS SDKs
, that will accelerate JPEG-XS encoding and decoding for Live production.
intoPIX's team has worked intensively to extend TICO compression's capability with the new
TICO-XS
being standardized as
JPEG-XS
. The new SDK will offer sub-frame latency and bandwidth ranging from 125Mbps to 400Mbps for HD, from 500Mbps to 1.6Gps for 4K, and from 1Gbps to 4Gbps for 8K. It is a great enabler for Live Production to manage more pixels without adding complexity to infrastructures and systems.
Two
FastTICO-XS
demonstrations will be shown to visitors on intoPIX's booth C8626 in central hall at NAB Show 2019:
1. FastTICO-XS live streaming of HD and 4K running on Intel X86 CPU processors and
2. FastTICO-XS live 8K 60 frame per second decoding and playback on Nvidia GPU.
Charles Buysschaert, Head of software development at intoPIX states: "We are seeing growing demands to move live production to virtualization, cloud and software-centric approach. Our new
FastTICO-XS SDKs
will perfectly complement this trend to deliver bandwidth-efficiency solutions with the usual intoPIX deliverables of lossless quality and ultra-low latency."
With compression coming to SMPTE ST2110 as "part 22",
JPEG XS
is set to become the go-to solution for broadcast professionals that want to create bandwidth-efficient production workflows over IP networks.
More information on the
FastTICO-XS SDK
, its first official release date, and evaluation can be obtained by NAB visitors from intoPIX's booth staff of via mail enquiry to sales@intopix.com.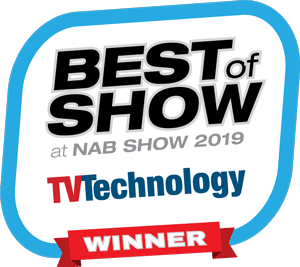 "Best of Show" at NAB 2019
Our FastTICO-XS won the

Future Best of Show Award

, presented at the 2019 NAB Show by TV Technology.
Future's Best of Show Awards are evaluated by a panel of engineers and industry experts, and are selected based on innovation, feature set, cost efficiency and performance in serving the industry.

intoPIX is an innovative technology provider of compression and image processing solutions for Broadcast equipment manufacturers. Their unique FPGA/ASIC IP-cores and fast SDKs enable users to manage more pixels, simplify connectivity, save cost and power and improve quality with no latency.