intoPIX video transport technologies take gaming platforms to the next level!
Mont-Saint-Guibert, Belgium, March 16, 2023 – intoPIX, known for its expertise in video image processing and transport, has a new surprise up its sleeve. This time, it is setting the gaming and extended reality world on fire with its award-winning technologies. True to its DNA, intoPIX solves the most important challenges of gamers: reduce power consumption, simplify connectivity, reduce cost, and ensure perfect image quality without any latency.
At GDC 2023, intoPIX showcases its new concept for Wireless Displays with its unique TicoXS FIP compression. The revolutionary TicoXS FIP technology seamlessly connects displays wirelessly with latency below 1 millisecond and pixel-perfect quality.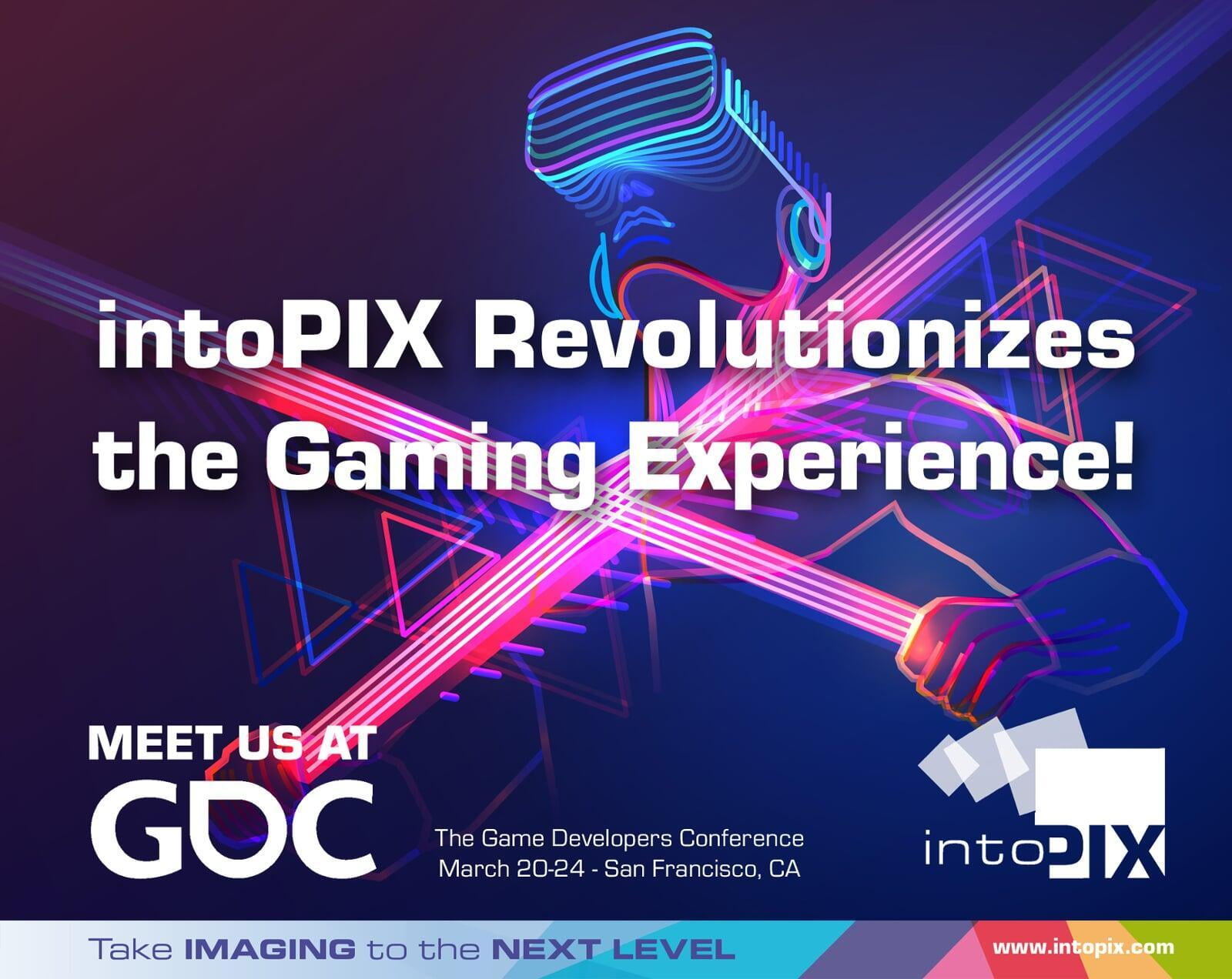 "
In Gaming and Extended Reality, fast-paced and complex graphics, and action put the user in the middle of a virtual world.It is critical that video capture and delivery can follow suit across surrounding screens and head-mounted displays. intoPIX provides those optimized low-power – even wireless-ready - compression solutions, ensuring a breathtaking experience with lossless image quality BEYOND reality.
"
enthuses Catherine Stroobants

,

Program Manager at intoPIX.
The intoPIX solution includes various options of standards-based and proprietary lightweight TicoXS & TicoXS FIP compression IP cores & SDKs.Optimized for gaming-specific graphics, for typical High Frame Rate content up to 240fps, and for resolutions ranging from 2K all the way to 8K, stunning visually lossless quality is guaranteed. To top this off, intoPIX also developed the TicoRAW compression technology for AR and other cameras, easing even more the transmission of image sensor data.
Meeting intoPIX at the Game Developers Conference is a unique opportunity to learn more about :
Sensor data with low bandwidth ;

Display Connectivity ​simplified ;

(Cloud) Gaming ​with zero latency ;

Wireless VR / AR ​with High Frame Rate.
intoPIX develops technology to build the world's best XR devices. Come and discover the exciting world of intoPIX and find out how they can help YOU to stay ahead of YOUR game!
intoPIX welcomes all engineers, product managers, and other stakeholders at its booth N2803 during Game Developers Conference 2023 in San Francisco, from March 22 – 24, to discover its technologies and dedicated demos. Click HERE to directly book a meeting with the intoPIX team during the show. www.intopix.com/gdc
​​TicoXS FIP combines JPEG XS with an advanced Flawless Imaging Profile (FIP) to deliver more compression efficiency on any content.
intoPIX TicoXS is the new JPEG XS standard delivers the world smallest latency, best quality and lowest complexity in software and hardware.