2015 International CES - Las Vegas - intoPIX, technology leader and provider of JPEG 2000 compression IP-cores, announced it has received yesterday a Technology and Engineering Emmy® Award for breakthroughs in the Standardization and Productization of transporting video with JPEG 2000 Broadcast Profile in MPEG-2 TS over IP Networks.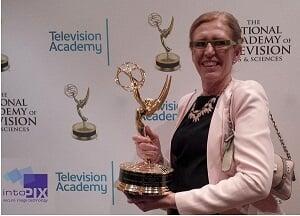 "An Emmy® Award is the recognition of technical leadership in the media and entertainment industry," said Gael Rouvroy, CTO and founder of intoPIX. "We are proud to be honored with this award along with our colleagues in the VSF for our work in the development of TR-01 J2K interoperability recommendations. This recognition further validates our pioneering work in developing best-in-class video compression solutions for migrating Broadcast and Pro-AV industries to an IP future based ecosystem.
intoPIX's JPEG 2000 technology is deployed on a truly global scale. The world's top networks and broadcasters leverage intoPIX's FPGA-based technology to reliably move high-value content over IP. Taking advantage of low latency, compression efficiency and constant image quality after multiple encoding generations gives the JPEG 2000 visually lossless compression a significant advantage.
intoPIX awarded JPEG 2000 technology is a smart way to build a video over IP solution for HD and UHD4K over 1G media networks with 10ms of latency. This year, intoPIX will also demonstrate the new disruptive TICO lightweight compression as a key alternative to uncompressed video transport to migrate Broadcast & Pro-AV infrastructure to 4K over 10G Media Network and 3G-SDI infrastructure. This new compression technology is extremely small in FPGA with no needs of external memory, has only few pixel lines of latency and is visually lossless up to 4:1 compression.
"The National Academy's Technology and Engineering Achievement Committee is pleased to honor these technology companies and individuals whose innovation and vision have materially affected the way the audience views television and have set the standard for technological excellence in the industry," said committee Chairman, Robert P. Seidel, Vice President of CBS Engineering and Advanced Technology and Chairman, Engineering Achievement Committee, NATAS.