Seamless connectivity for wireless and wired networks enables the best video transmission experience!
Mont-Saint-Guibert, Belgium, March 7, 2023 – intoPIX, the leading expert in zero-latency mezzanine video compression, is presenting its innovative image processing and compression solutions for human and machine vision at Embedded World 2023. Explore its innovative technologies that solve the challenges of most machine vision and AI applications: Reducing power consumption, simplifying connectivity, and cutting costs, while ensuring perfect image quality without latency.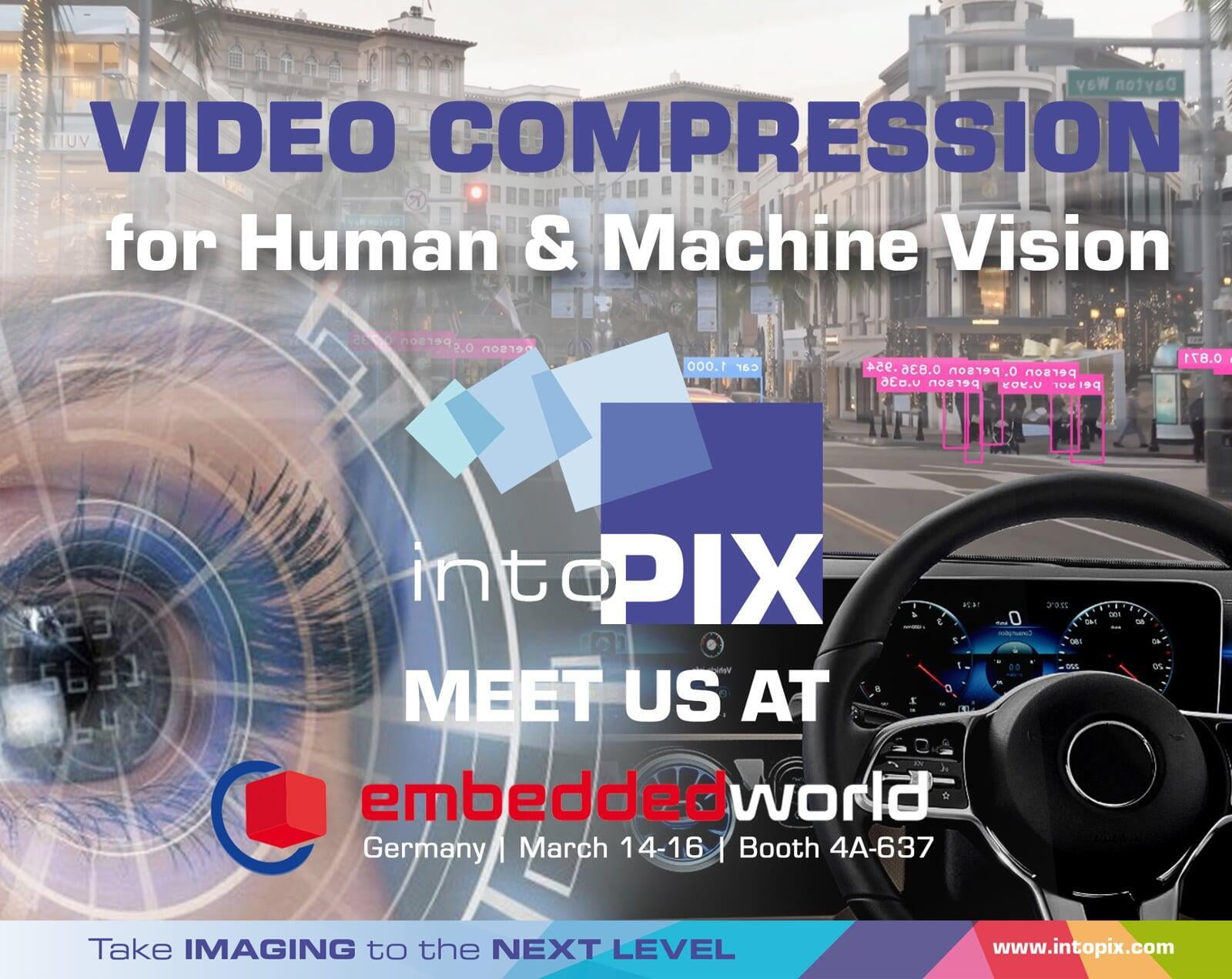 intoPIX showcases a new concept for Wireless Displays with its unique TicoXS FIP compression algorithm that combines the JPEG XS Codec ith a Flawless Image Profile and a dedicated error concealment feature. The award-winning TicoXS FIP technology seamlessly connects displays wirelessly with a latency below 1 millisecond and a pixel-perfect quality.

"By reducing internal links and memory needed within electronic devices for managing video data, JPEG XS (and its additional Flawless Imaging Profile) significantly reduces power consumption and manufacturing cost of any electronic device: cameras, autonomous vehicles, VR/AR gear, medical devices, test measure-ment equipment, avionics entertainment, … " explains Justine Hecq, Product Marketing, and Business Devel-opment Manager.
intoPIX is also presenting its innovative range of low-power compression technologies and standards dedicated to improving and simplifying in-vehicle sensor and video connectivity. Two families of Silicon IP cores & Software are highlighted for automotive applications: TicoXS, which is the intoPIX brand of JPEG XS lightweight compression, and TicoRAW, the intoPIX product range of image sensor compression technologies. They are presented in various use cases during the show. Visit the intoPIX booth to assess the quality of the codec, with no difference between the source and the resulting image after the compression.
With its JPEG XS Full Stack, intoPIX offers the smallest latency, the best image quality, and the lowest complexity for human & machine vision for hardware & software-based applications (available on FPGA, ASIC, CPU & GPU).
intoPIX welcomes all engineers, product managers, and other stakeholders at its booth 4A-637 during Embedded World 2023 in Nürnberg (Germany) from March 14 - 16, to discover its technologies and dedicated demos. Click HERE to book a meeting with the intoPIX experts during the show.
​​TicoXS FIP combines JPEG XS with an advanced Flawless Imaging Profile (FIP) to deliver more compression efficiency on any content.



intoPIX TicoXS is the new JPEG XS standard delivers the world smallest latency, best quality and lowest complexity in software and hardware.