Welcome to all those who joined us at IBC 2023! We'd like to express our deepest gratitude for your presence at our stand and for the fascinating discussions we had about your exciting projects.
For those of you who unfortunately couldn't be there in person, don't worry, we've prepared a brief summary of the impressive demonstrations we presented at this exceptional event.

IBC 2023, this iconic gathering of the broadcast industry's major players, attracted exhibitors from all over the world to showcase the sector's latest technological advances. Among these esteemed participants, intoPIX was proud to be there, ready to share its expertise and unveil its innovations.
Simplify Your Workflows ​in the LAN, over the WAN and to the Cloud!
JPEG XS in Action: Unleashing the XS Technology Power at a Glance!
We were proud to be able to introduce you to the growing field of JPEG XS solutions, adopted by many key players in the broadcast industry.

Did you enjoy our unique exhibition, featuring several esteemed partners who have seamlessly integrated the technology into their products, enhancing the live production experience for their users?
IP-based workflows made easy with JPEG XS connectivity... and intoPIX solutions.

Would you like to showcase your technological prowess made possible by our JPEG XS as well? We'd be delighted to include you in our next show!

Download the slideshow to find out more about all the solutions powered by JPEG XS!
A Dazzling Success for JPEG XS in the Industry!
The industry has released "a significant update" on JPEG XS during IBC 2023. Several vendors were highlighting the power of JPEG XS on the show floor demonstrating the power of JPEG XS to transform our world into a studio for live production.
Products and demonstrations included solutions for HD and 4K contribution, remote production, color grading in 4:4:4 12bits, camera streaming using SMPTE 2110 JPEG XS or IPMX , 8K editing, test and measurements for VSF TR07 or VSF TR08, AWS cdi compliant solutions with JPEG-XS, OpenGear® cards with multiple JPEGX encoders or decoders, JPEG XS to HDMI conversion boxes for displays. small SFP modules, multi-channels gateways for servers into Studio, OB Van, WAN or Cloud connectivity, ST2022-2 TS or SRT transmission with JPEG XS, ...

Stay Ahead of the Game Thanks to TicoXS FIP, TicoXS and Titanium!

At IBC, we were very proud to showcase the new Flawless Imaging profile (FIP) running along with the JPEG XS High profile for AVoIP & IPMX. All you need is CAT5E for 4K & 8K ProAV over IP, even with the most challenging 4:4:4 screen content. Our demo was even featuring our error concealment feature embedded in the compression, within a 60Ghz wireless transmission.
We were also showing a complete demo featuring the "JPEG XS Connectivity" for Premium Live Production in the LAN, over the WAN, and to the Cloud". Our new Titanium Software for IPMX & ST2110 was connected leveraging our FastTicoXS CPU & GPU SDK. The SDKs had gained up to 25% in speed on the Q3 2023 release!
The demo was running on a 1GbE network with HD and 4K streams. We were combining in the network our FPGA sender, FPGA receiver embedding our TicoXS IP cores & sub-system IP cores for ST2110, as well as our Titanium 2110 viewer and Titanium 2110 sender running on a laptop and an Intel NUC PC.
Reach out to us to discover all there's to know about TicoXS, Titanium and TicoXS FIP and stay one step ahead of the competition!
Build new "Capture" workflows using TicoRAW !

​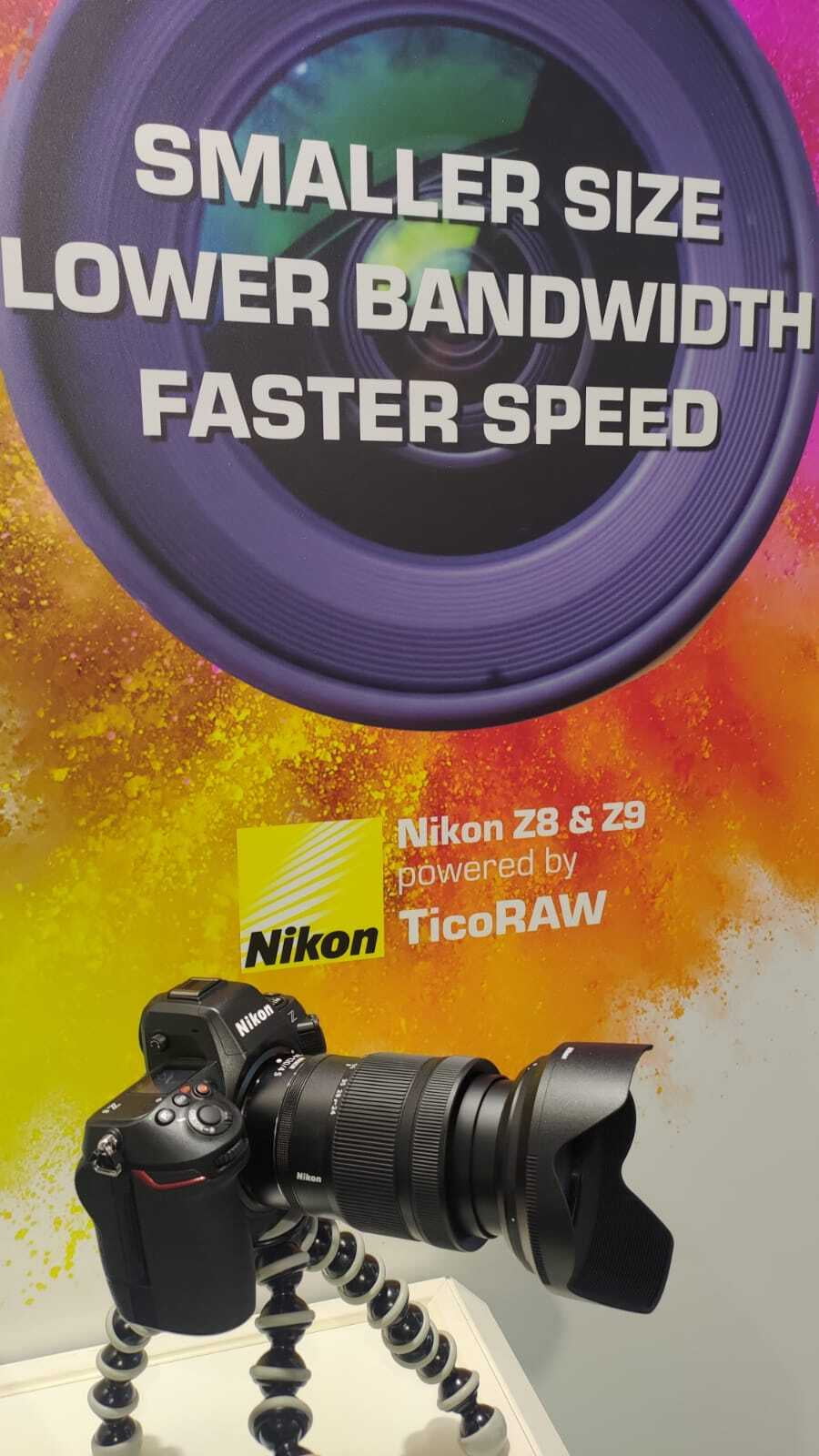 The show was also an opportunity to discuss new workflows using TicoRAW. Visitors were able to learn more about the value of TicoRAW.

intoPIX was showing TicoRAW running live within the new Nikon Z8 camera. Real-time playback of 8K N-RAW clips was also presented using the Davinci Resolve editing tool from Blackmagic Design. The Nikon cameras and Resolve editing tool are so efficient with TicoRAW!

Preserving the most beautiful pixels and most perfect colors captured in RAW, TicoRAW enables to design new types of cameras with much more efficiency compared to what is made today: TicoRAW reduces power consumption and extends battery duration during the capture, it extends storage capacity and reduce the file transfer time, and moreover, it runs amazingly fast in CPU for editing, even in 8K.

But TicoRAW also enables building new RAW workflows, thanks to its microsecond latency that makes it suitable for live and low-latency applications, such as motion capture studios, camera-to-cloud workflows, camera-to-CCU transmission, ... it is amazing to see how efficiently a TINY codec can solve HUGE challenges both for connectivity and storage optimization.

intoPIX Featured in the Press at IBC!
Enhanced Artel SMART openGear Leverages intoPIX JPEG XS Technology for Ultimate Low-Latency Transport Solutions
intoPIX & Cobalt unveil the future of content delivery with JPEG XS: Introducing the Sapphire mini-converters & openGear card powered by intoPIX technology
Once more, we are absolutely delighted with our remarkable achievements at IBC 2023! The tremendous backing we garnered from event-goers and professionals in the industry has significantly boosted our confidence in our abilities. We are exhilarated by this triumph and eagerly look forward to leaving a long-lasting impression on the market in the days ahead.
See You Next year at IBC 2024 !

intoPIX TicoRAW Technology Added with High-Efficiency RAW Recording of Nikon Z 9 Flagship Mirrorless Camera
intoPIX TicoXS is the new JPEG XS standard delivers the world smallest latency, best quality and lowest complexity in software and hardware.